When: Next event is August 27th, 2015 (6:00 pm)
Where: Double Tree Hotel (Address: 90 Pacifica, Irvine, CA 92618)
What: Zero theory, 100% proven SEO strategies to grow your business
Why: To share what's working in SEO & Digital Marketing and bring together OC's marketing & entrepreneurial community.
Tickets: Register Now For Only $25 (Limited Time) * Paypal or Credit Card
What's This Meetup About?
A powerful evening of advanced SEO and digital marketing material that applies to any business seeking growth through online marketing. Join us for a brief 30+ minutes of networking, food/drinks, and a high impact presentation of SEO (search engine optimization) and digital marketing. Plus learn how to plan, prioritize, optimize, and leverage essential digital media options for brands and websites.
Business owners, entrepreneurs, marketing wizards, web designers, social media ninjas, aspiring digital media students, and anyone who wants to learn basic and advanced SEO and digital marketing strategies to increase website traffic and performance.
Caution: The material covered may result in you increasing sales, getting a promotion, pissing off your competitors, and giving you a huge advantage in the world of digital media.
We will be providing actionable takeaways for increasing your website rankings in Google, Bing, and Yahoo - regardless of competition, industry, website size, local, national, or international targeting. He will also discuss vital tips for website conversion, traffic, social media engagement, paid search marketing, and a sneak peak into the power of Facebook advertising.
Attendees will benefit from 12+ years of hard–hitting online marketing experience, including learning how to execute tested and proven SEO and digital marketing campaigns across multiple media platforms and how to avoid common pitfalls and mistakes.
Learn from case studies and successful campaigns executed for brands like Hurley International (a Nike Company), and several other Fortune 500 and INC 500 brands, with precise action-plans you can apply to take advantage of the same strategies for your brand or website, regardless of competition, market environment, or technical limitations.

Ninja Strategies
Tyler Collins is a highly sought after SEO professional, who regularly speaks at well-known digital media conferences and events such as Jay Abraham Consulting Mastery, Traffic & Conversion Summit (3000+ attendees), Smart Marketer Live, Brown Box Formula, and many underground invite-only SEO mastermind groups with many of the top online marketers in the country.

Seo HotSeatS + Open Q&A
Think your SEO strategy is good? See what the experts say. Put Tyler on the SEO HOTSEAT and have your website reviewed and ask questions in real-time to uncover the good, bad, the ugly, and receive a take-home strategy to achieve higher rankings immediately. Since we do this every day we think it would be cool to offer this live demonstration to our attendees. Sign up at the door for the hotseat so we can help you out.

Win a Free Kindle fire HD! We are going to raffle one at the end of the evening. We ended up giving away 2 at our last event.
What You Can Expect
- Actionable content: Everything from Traffic & Conversion to Mindset & Systems
- In-depth SEO Analysis of Your Website
- A community of innovative entrepreneurs to network with.
- Great food, beer, & wine.
- Giveaways & prizes. At this event we'll be giving away a Kindle Fire HD!.
- A good old fashioned rockin' good time!
Register Now
Networking Event, Drinks & Food

SEO: What's Working Now, Why
and How to Do it.

SEO: Future Proof Your SEO Strategy

SEO HotSeats: Live Analysis & Q&A
for Attendees
Schedule Information
We have a LOT to cover and will be running a tight schedule. Enjoy a casual meet & greet 30 minutes before the magic happens.
Once we start at 6:30 sharp, have your notepads ready because we'll be revealing never-seen-before strategy & information you don't want to miss.
Don't Like Taking Notes?
No problem. We record the event and will make slides and recordings available to attendees. We'll be covering so much material we would be silly not to archive and share it. Sit back and enjoy some powerful marketing conversation with a drink or snack (or both).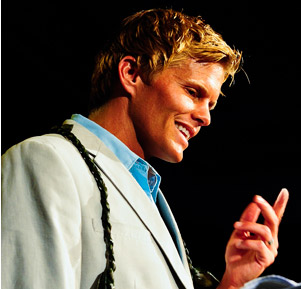 Who is Tyler Collins?
Founder of Swell Marketing Inc, OCSEO, and numerous other digital media agencies, Tyler is a serial entrepreneur and Internet marketer who has led numerous multi-million dollar online companies into success through digital marketing.
Specializes in SEO (search engine optimization) and Digital Marketing agency fulfillment and consulting. Tyler consults for search engine optimization firms, online marketing agencies, and C-suite executives at large media companies with business expansion, infrastructure reorganization, and process systematization, to achieve performance goals across a swath of results-based digital marketing mediums.
13+ year track record of analyzing, planning & executing ROI driven marketing programs for small, medium, and large websites to establish and maintain a successful marketing presence in large industries
Tyler Collins sits on the Board of Directors for Surfline.com, a global surf media website powered by marine weather and wave forecasting technology, providing international reporting with hundreds of live, high definition streaming cams around the globe. Along with Board level decisions and new product development consulting, he assists with search marketing strategy, digital media expansion and planning.




Tom Gaither
Director of Operations


Jeanette Morales
Director of Administration


Kevin Chow
SEO Director


Dan D'Arcangelo
Director of ORM


August Bollinger
Senior Programmer


Joshua Last
Director of Web Design


Shawn MacDonald
Web Design Manager


Kelli Bradley
Director of Account Strategy


Jason Brown
SEO Manager


Darren Dunner
Chief Technology Officer


Jason Martell
Senior UI/UX + Mobile


John Williams
Director of Marketing


Collette Bodine
Controller


Marci Trevino
Director of Client Relations


Hayden Koch
Social Media Manager

Featured Clients
These are just a few among the hundreds of clients we serve.
---
What Experts Are Saying..
Don't take our word for it. Watch the short videos below to see for yourself what people think..
"Big thanks to Tyler for putting us at the top of Google for our best keywords. Now we dominate our space. Absolutely thrilled."
"Tyler Collins is an exceptional SEO specialist and Internet marketing professional. I've had the pleasure of working collaboratively with him on Salt Lake Comic Con's multi-million dollar launch last 2013, which was largely a result of his SEO work. His understanding of SEO, SEM and Social Media is extraordinary. He delivered timely results as promised and was very capable of communicating the strategic opportunities available as well as cost effective solutions for realizing them. I look forward to working with him again."
"We hired Tyler Collins to help our company restructure search marketing strategies and also set up new campaigns. Immediately, I was very impressed with the SEO knowledge, especially organic search optimization skills that Tyler possesses. Rarely do I meet other marketing executives who understand SEO concepts at the level he does. Beside being extremely detailed and diligent, what stood out most about his work were the results. He produced clearly organized and punctual work, and the business results of their actions were well worth the investment. I highly recommend these guys if you need to increase your sales funnel using search marketing strategies and tactics."
So I actually ran one of the top SEO consultancies in the country, and when I decided to start prREACH.com I needed someone I could trust to refer clients and handle my SEO work. Tyler is one of the best I know and is my only SEO source. I highly recommend Tyler if you are serious about dominating your space, launching a new site or product, or trying to grow your SEO practice.
7 Big Reasons You Should Attend This Event
1) All Content. Proven Methods. Zero Theory.

You are coming to learn business growth strategies that work.

2) Events Consistently Exceeding 120 people.

Our track record of delivering amazing content is evident by our growing number of participants.

3) Full Access to Tyler Collins.

He charges $700-$1000 per hour for coaching, you'll get his undivided attention for a full night for just $25.

4) Presentation Recordings.

All attendees will get a video copy of the presentations. Some of the content is advanced and you'll want to go back through it on your own time.

5) Networking & Deals.

Live events are some of the best opportunities for meeting new clients & business partners. You never know who you are going to meet!

6) Cutting Edge Digital Marketing strategies.

Tyler travels the world attending masterminds and staying up to date on what's working for his own businesses and he'll be sharing all of that with you at the event.

7) Full Money Back Guarantee.

We're confident that this event is going to blow you away and we're willing to put our money where our mouth is to back that up. If you don't like the event for any reason you can have your money back, no questions asked.
F.A.Q
Answers to our frequently asked questions from past and current attendees.
How long is the meetup?

We start the networking at 6pm and the presentations at 6:30 sharp. Our live demonstrations and Q&A sessions at the end will go as long as they don't kick us out.

How much is it to attend?

There's a $35 entry fee for the meetup if you register here or $45 at the door.. This fee goes towards the cost of renting the room and providing food/beverages for the event.
Do you record the event?

We record the meetups for 2 reasons. 1. So that you can receive a copy of it for reference later, and 2. We edit it and put clips online for future attendees and for PR purposes.

Do you offer a longer "bootcamp?"

We've had several people who have attended previous meetups ask if we would consider running a more in-depth bootcamp. We are putting an event like this together. If you

join the newsletter list

we will announce details as they become available.